Iranians leave the castle of Farwad, late 12th early 13th centuries AD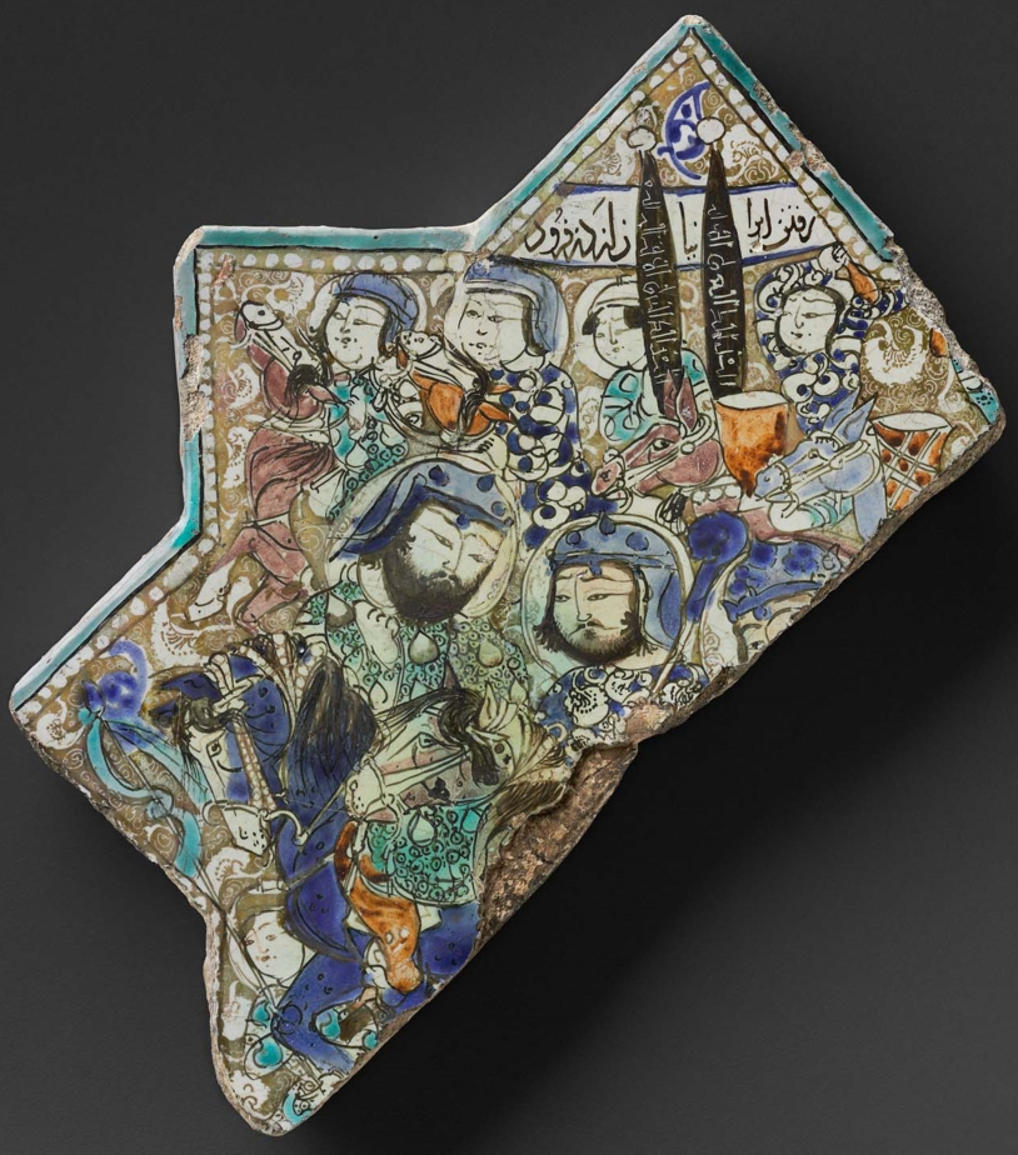 Star tile with Shahnama imagery
Persian
Seljuk
early 13th century
Object Place: probably Kashan, Iran
Dimensions: Overall: 27 x 22.5 x 2 cm (10 5/8 x 8 7/8 x 13/16 in.)
Accession Number: 31.495
Medium or Technique: Fritware with polychrome and luster decoration on opaque white glaze
Inscription: Inscribed in Persian in band across top of tile: Raftan-i Iranian az dez-i Forud (The Iranians leaving Forud's fortress)
Provenance: 1931, sold by H. & H. Stora, Paris and New York, to the MFA for $1,200. (Accession Date: July 16, 1931)

This rare tile fragment, which combines luster and polychrome painting techniques, helpfully identifies its subject via a band of Persian script across the top point. Predating all existing book illustrations of the Shahnama, depictions of what seem to be tales from the epic appear on numerous 12th- and 13th-century Persian metal and ceramic objects.
On a campaign in Turkestan, headstrong Iranian General Tus becomes embroiled in a bitter contest with the Shah's half-brother Farud, ruler of a mountain stronghold. The escalating strife ends only with the fatal wounding of Farud and the suicide of his people. Barely averting mutiny, Tus rallies his troops and, with kettledrums banging and banners aloft, descends from the site of the ignominious conquest. The figure next to Tus is probably Bahram, holding Farud's mace.



---


Referenced as figure 378 in The military technology of classical Islam by D Nicolle
378. Ceramic tile, Iranians leave the castle of Farwad, late 12th early 13th centuries AD, Iranian, Museum of Fine Arts, Boston. (Pope).
p70 Meanwhile, an asymmetrical mace, probably known as the qurz, and its more sophisticated animal-headed development seem to be restricted to Iran (Figs. 377, 378, 388A, 394 and 399).
---

377. Ceramic bowl from Rayy, King with attendants late 12th early 13th centuries AD, Iranian, museum of Fine Arts no. 63.1386, Boston.
388A. Iron mace-head, 12th-13th centuries AD, Iranian, Heeramaneck Galleries, New York.
394. Inlaid astrolabe, 1223-24 AD, Iranian, Museum of the History of Science, Oxford.
399. Kashan-ware bowl, Faridūn and Kāwadh 13th century AD, Iranian, Institute of Arts, Detroit.
'Maces' by David Nicolle, an extract from The military technology of classical Islam
Other Seljuk Illustrations of Costume & Soldiers