Faridūn and Kāwadh
Seljuk Bowl, Inscribed "Wealth", early 13th Century
Kava and Faridūn, mounted on a cow, bring the bound Zahhak to Mount Damavand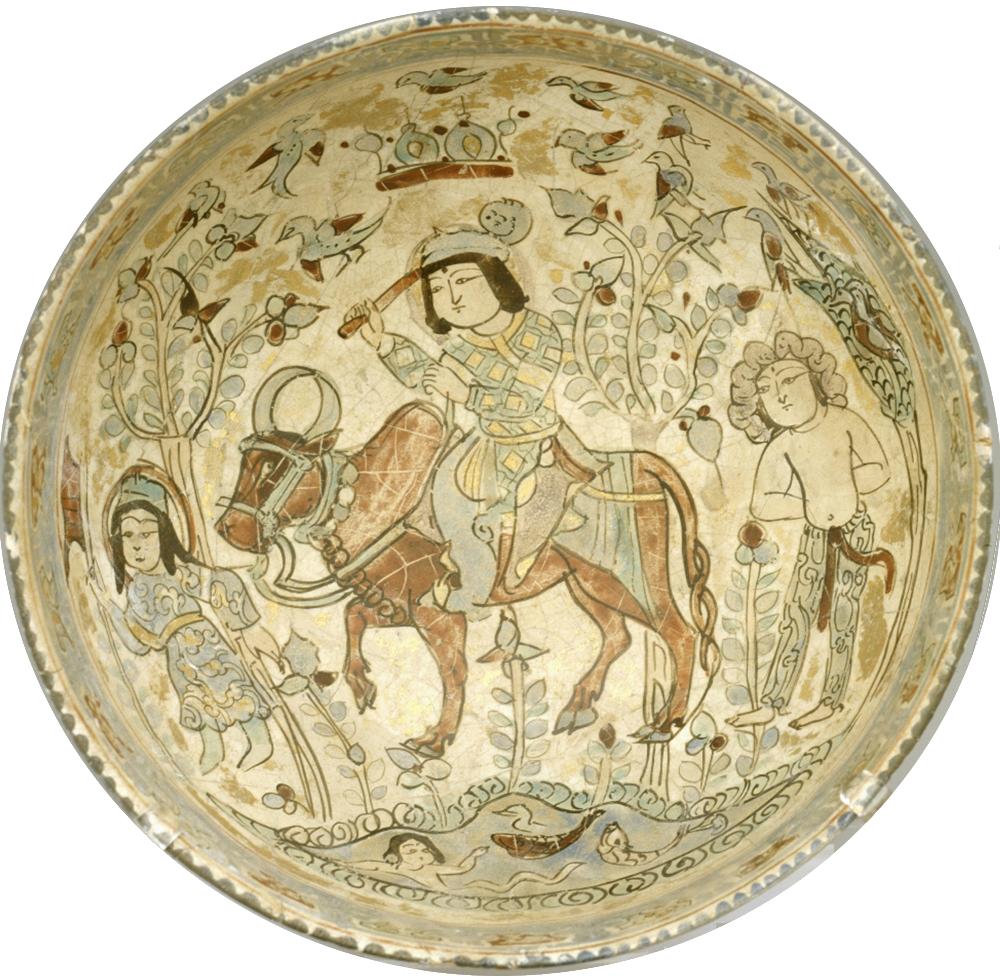 Date: early 13th Century
Medium: Composite body, opaque white glaze, polychrome underglaze and overglaze painted decoration
Dimensions: 3 7/8 x 8 1/4 in. 9.8 x 21.0 cm
Department: Islamic Art
Classification: Ceramic
Credit: City of Detroit Purchase
Accession No.: 30.421

In their desire to imitate contemporary Chinese Song ceramics, the Seljuks were responsible for the most important innovation in early medieval Islamic pottery. They rediscovered a frit body of clay, quartz, and potash, an ancient Egyptian invention that permitted a variety of color and decoration.

Mina'i (enameled) was the most elaborate Seljuk pottery style, requiring several firings for pigments and gold leaf. Its figural style, derived from wall and miniature painting, preserved in a durable medium an almost vanished aspect of Seljuk art. This luxury ware was produced in Kashan for an emerging wealthy middle class.
Source: Institute of Arts, Detroit



---


Referenced as figure 399 in The military technology of classical Islam by D Nicolle
399. Kashan-ware bowl, Faridūn and Kāwadh 13th century AD, Iranian, Institute of Arts, Detroit (Grab P).
p70 Meanwhile, an asymmetrical mace, probably known as the qurz, and its more sophisticated animal-headed development seem to be restricted to Iran (Figs. 377, 378, 388A, 394 and 399).



---


Referenced as figure 47 in G. D. Guest and R. Ettinghausen, "The Iconography of a Kāshān Luster Plate," Ars Orientalis 4, 1961, pp. 25-64.

---

See also a Ilkhanid Frieze Tile with Faridun Riding the Cow Birmaya, Takht-i Sulaiman, Iran, late 13th century. Walters Art Museum - 48.1296.
Other Seljuk Illustrations of Costume & Soldiers