Prime Student 6-month Trial
Illustrations from the manuscript of the Romance of Varqa and Gulshah, c1250.

Warqa wa Gulshah, Varqa u Gulshah, Varka ve GŁlĢah'ta, Varqa o Golö"h, Le Roman de "Varqe et Golsah."
Scenes from the only known illustrated manuscript of the poem, the Romance of Varqa and Gulshah, by Urwa b Huzam al-'Udhri, with paintings by Abd al Mu'min al Khuwayyi.

The early thirteenth-century manuscript of Varqa and Gulshah in the Topkapi Palace Library (Hazine 841) is the unique copy of the Persian poet Ayyuqi's 11th-century romantic poem about a pair of unfortunate lovers. The manuscript - generally held to be a product of early 13th-century Seljuk Anatolia - is also the earliest surviving example of an illustrated book containing a literary Persian text. Based on a story "told by Arabs," the poem was (re-)composed by Ayyuqi in the eastern Iranian world during the Ghaznavid period. The seventy-one paintings constitute a fascinating corpus of images which indicate a particularly rich realm of artistic process and audience expectation.



A summary of the story of Varqa and Gulshah

Click on the pictures for a larger image.



f.31/30b. Varqa speaks with the mother of Gulshah.


f.32/31a. Interview of the mother of Gulshah with her husband sitting on a throne.

f.33/32a. Farewell visit of Varqa to Gulshah, before his departure for Yemen; within a tent.

f.34/33a. Oath of fidelity of Varqa and of Gulshah

f.35/33b. Farewell of Varqa to Gulshah under a cypress.

f.36/34b. Varqa enters into the city of Yemen and Varqa speaking with the Vizier

f.37/35b. The exit of the armed Varqa from the walls of Yemen, flanked by two riders.

f.38/36b. The army of Varqa scatters that of Bahrain and of ĎAdan.

f.39/37b. Struggle of Warqah with a warrior of ĎAdan.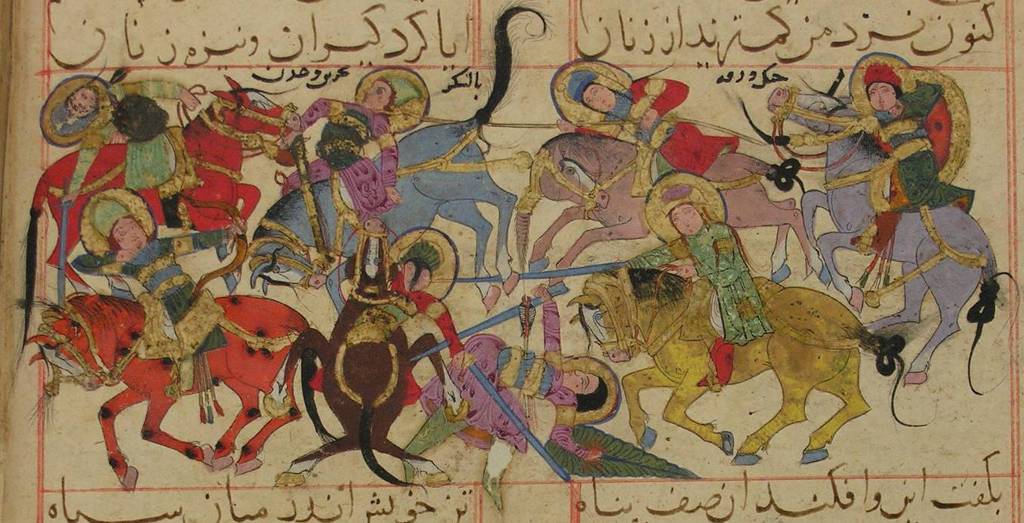 f.40/38b. Combat of Varqa with the army of Bahrain and of ĎAdan.


The artist's name 'Abd al-Mu'min b. Muhammad al-Naqqash al-Khuyi occurs as a witness to the endowment deed of the madrasa founded by the Seljuk amir Jal"l al-Din Karatay in 1253-54AD at Konya. The artist's signature is fol.58v of the Warqa wa Gulsh"h manuscript. The nisbah al-Kliuyi shows that he was from Khuy, Azerbaijan. (Grube 1966 p .73; Melikian-Chirvani 1970 pp.79-80; Rogers 1986 p.50).
From the Topkapi Saray Museum, Istanbul, Turkey.

Varqa wa Gulshah, page 1
Varqa wa Gulshah, page 2
Varqa wa Gulshah, page 3
Varqa wa Gulshah, page 5
Varqa wa Gulshah, page 6
Varqa wa Gulshah, page 7

Large Coloured Military Illustrations from the Romance of Varqa and Gulshah
Other Large Coloured Illustrations from the Romance of Varqa and Gulshah

Seljuk Illustrations of Costume & Soldiers