Kindle Unlimited Membership Plans
Horseman of Raqqa
Faris al-Raqqa
Click on a picture for a larger image.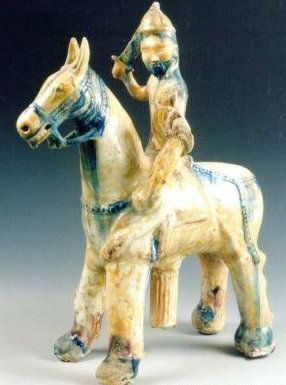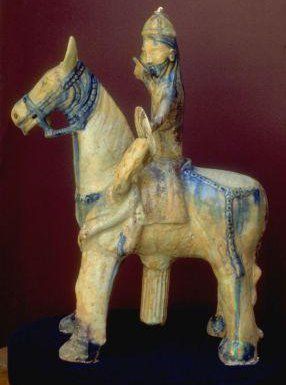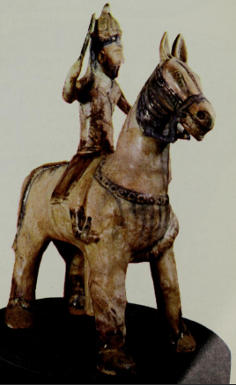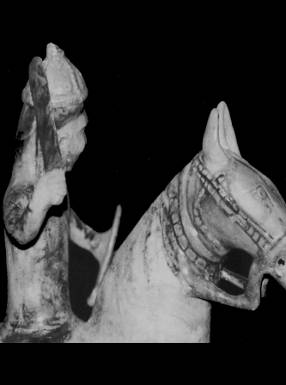 Holding Museum: National Museum of Damascus, Damascus, Syria
Dimensions: Height 46.5 cm
Material(s) / Technique(s): Earthenware, polychrome painted.
Date of the object: Hegira 6th century / AD 12th century
Period: Ayyubid
Provenance: Possibly Raqqa region, Syria.
Description: A figurine of a bearded horseman with Asian Turkoman facial features, long braided hair and a helmet. Around the right front hoof of the horse is a snake that is climbing towards the rider from his left. The snake is shown opening its mouth to bite the rider through his armour, but he repels it with his shield. He carries a straight sword lifted into the air, ready to strike. There is a grooved cylindrical column coming out of the stomach of the horse that probably supported the statue, keeping it upright. The horse wears blue reins that are executed in relief. The reins continue around the horse's mouth and hang in front of its neck, then, like a harness, run across the sides of the horse's body down to the lower part of its hind legs. The object is glazed in off-white and blue and, therefore, can be compared to the laqabi-style ware of Persia, also known to have been produced in Raqqa. Laqabi ware is often seen as luxury bowls and dishes with moulded decorations. Production probably centred on the city of Kashan in Persia. Raised areas were often coloured in bright-blue, yellow, green, purple and pink to differentiate them from the white or off-white background.

Source: Mona al-Moadin "Equestrian figurine" in Discover Islamicart Art. Museum With No Frontiers.

---

Turkish cavalry in Armies and Enemies of the Crusades 1096-1291 by Ian Heath, based on the Faris al-Raqqa.
See also a Ceramic bottle-stopper from Raqqa, 12th or 13th century AD
Seljuk Illustrations of Costume and Soldiers
'Charlemagne's chess set', Southern Italy, end of the eleventh century
Ayyubid Horse Archer on a Pilgrim Bottle (zamzamiyyah) Fragment, 12th-13th Century