Join Prime Video Channels Free Trial
A 9th-10th Century Persian Wall Painting
Saffarid or Samanid Period
from the palace of Sabzpusan (Sabz Pushan "green mound" in Persian) at Nishapur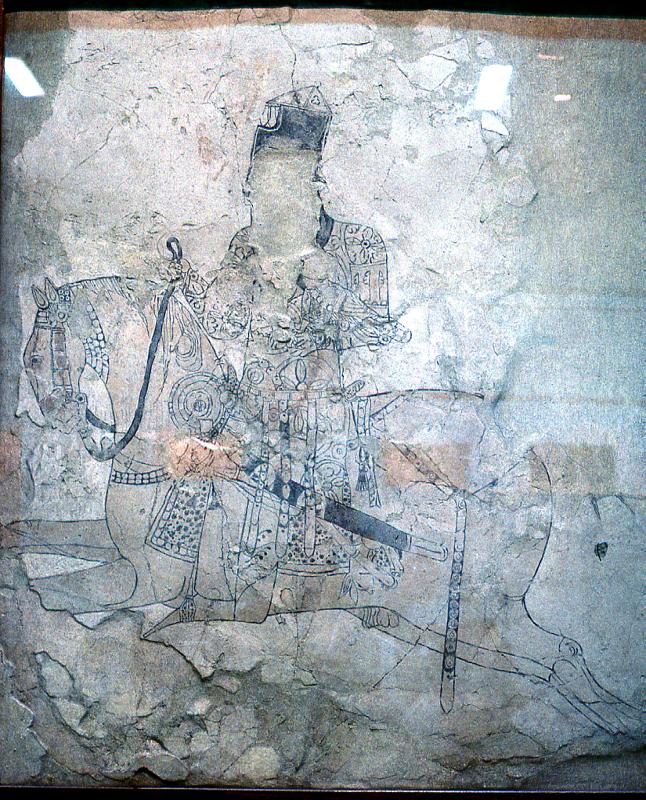 A larger image of this Persian Wall Painting of a Cavalryman, 9th-10th century from the palace of Sabzpušan at Nišapur, Saffarid or Samanid Period
Image source: p.251, "The Iconography of a Military Elite: Military Figures on an Early Thirteenth-Century Candlestick (Part II)" by David Nicolle, in Mamlūk Studies Review Vol. 19, 2016


A belt with three long lappets tipped with metal, from which two swords are suspended, is shown on a wall painting of the 3rd-4th/9th-10th centuries from the palace of Sabzpušan at Nišapur; Wilkinson, 1986, pp. 206-07 figs. 2.39-40). The rider is clad in a stiff, decorated caftan with tight sleeves, ornamented trousers (or leggings that cover the heels), and high boots with pointed toes. On the upper sleeves of the caftan are ṭerāz (embroidered) bands of pseudo-Kufic writing, a common element of clothing in the early Islamic period. Charles Wilkinson believed that plain, uninscribed brassards were worn in Persia as early as the 3rd/9th century; they appear on the garments of what have been identified as "Persians" in wall paintings of approximately that date at Bäzäklik (Wilkinson, 1986, p. 211; Le Coq, 1926, pl. 20); it is more probable, however, that they are Central Asian donor figures. Although this parallel underscores the influence of Central Asian styles on Persian clothing, inscribed brassards seem to be a purely Islamic innovation in dress. According to Wilkinson, the headdress worn by the painted rider from Sabzpušan is probably a helmet of silk and leather, which he considered unique in form (1986, p. 209).
Source: Encyclopaedia Iranica



---


THE HUNTSMAN. The drawing in Figure 2.40 replicates the huntsman as he appeared on the wall, eliminating all the confusing cracks in the plaster. The rider holds a falcon (probably hooded) on his gloved left hand, close to his chest. He wears a peaked headdress topped with a spherical knob. A bold design of roundels enclosing four-petaled rosettes patterns his tunic, which is probably silk, and sprigs of embroidery embellish his trousers, which graze the instep in front and cover the heel in back. Brassards, the left one still bearing its decoration of pseudolettering, encircle his upper arms. His belt has three dangling straps, doubtless of leather encrusted with metal ornaments. From the belt hang two swords: one, in a leather scabbard, large and curved, the other thinner and more delicate. The galloping steed, resplendent in a leopard-skin saddlecloth and metal-studded harness, its swelling contours and taut muscles defined by a strong, modulated line, is so well drawn it seems actually to be surging forward. Like the plump hare swinging limply from the saddle and the falcon poised for flight on its master's glove, the horse is rendered much more sensitively and realistically than the human figure, who sits rather stiffly upright.
Source: Wilkinson, Charles K. Nishapur: Some Early Islamic Buildings and Their Decoration. New York: Metropolitan Museum of Art, 1986. [pdf]



---


Referenced as figure 356 in The military technology of classical Islam by D Nicolle
356. Fresco, 10th century AD, Nīshāpūr, Archaeological Museum, Tehran (Elg).
pp. 206-7, A form of leg protection known as the sāq seems to have been used throughout the period under review in many parts of the eastern Islamic world, though perhaps remaining rare. Some, or perhaps all, were fastened to a belt by iron hooks.27 Although those referred to by al Ṭabarī were of mail,28, their shape may have corresponded to leggings which, drawn up over the wearer's knees and presumably fastened to a belt, feature in many illustrated sources from the east (Figs. 18, 126, 233, 237, 300, 307, 313, 331, 334, 341, 342, 356, 359, 365, 400, 422, 468, 477 and 623).
27. Al Ṭabarī, op. cit. vol. II, pp. 586-587.
28. Ibid.



---


Referenced on p.9, Armies of the Caliphates 862-1098 by David Nicolle
Wall painting from Nishapur, 10th century Iranian. (Archaeological Museum, Tehran).

---

See also A Persian Cavalryman in Armies of the Dark Ages 600-1066 by Ian Heath
Central Asians of the Tarim Basin City States
Persian Illustrations of Costume & Soldiers
Other 9th Century Illustrations of Costume & Soldiers