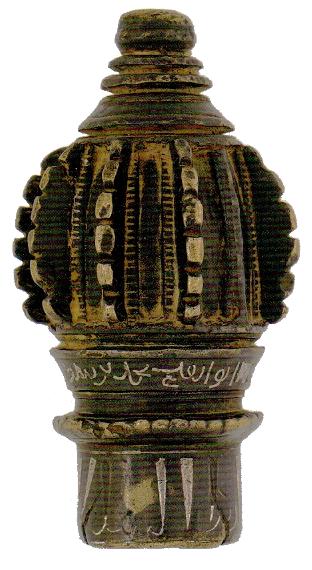 236
Mace head
Iran, thirteenth-fourteenth century
Copper alloy, silver
L. 9.3 cm
Inv. R-99
Inscribed



Abū al-Fath Muḥammad ibn Sultān aldunya al saad al'azam ala al dunya wa din, al sultan al azam
The mighty Sultan Lord of the world and religion

This mace is inlaid in silver with two bands of Arabic inscriptions in cursive scripts, the upper band records a Sultan's name and the lower band, written in a more elegant style, gives a series of titles typical of the thirteenth to fourteenth century. The form of the mace and the lower inscription indicate a date in the thirteenth to fourteenth century. It is possible that the upper inscription by a different and less talented hand was added at a later date. It has been attributed to the last Khwarazam Shah, Ala al-Dīn.1

1 Simon Digby in Islamic Art, exhibition catalogue. Spink and Son Ltd, 1977. The name and titles are not uncommon, so the attribution must remain uncertain.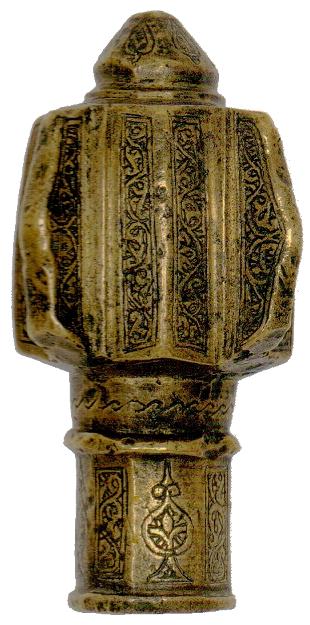 237
Mace head
Iran, Saljūq-Mongol period,
early fourteenth century
Copper alloy
L. 12cm
Inv. R-98

This mace head is of the same type as is illustrated in the Compendium of Chronicles of Rashid al-Din dated 1314. A similar mace head is in the Nour Collection.1

1 Alexander 1992, p.64, no. 23.