Join Prime Video Channels Free Trial
Persian 19th Century Soldiers

1811 Persian Zembouraki Camel Artillery



Persian Zembouraki Camel Artillery

1830 Persian Soldier

1830 Persian Guard Artillery

1840 Persian Mounted Sharpshooters of the Shah's Guard

1840 Persian Lancer of the Shah's Guard



1850 Persian Infantry

1884 Persian Officers & Soldiers

Click for a larger image. Crown Prince Abbas Mirza took the lead in creating a modernized army for the Qajar state. In this painting, which may be of the battle at Sultanabad on 13 February 1812, he can he seen at the left with a pile of Russian heads in front of him. On this occasion the Qajars won; in the later war of 1826-28 they lost badly.

Depicted on this huge canvas is the defeat of the Russian Trinity Infantry Regiment in the battle near Sultanabad, which took place on 13 February 1812. In the left half of the painting, at the head of the Persian troops, riding a bay horse and wearing a blue robe is Crown Prince Abbas Mirza, son of the reigning Fath Ali Shah. With his right hand he points at the severed heads of the enemy. The defeat itself is shown in the right part of the canvas, where the battle takes place in the Russian camp - note the two-headed eagle of the Russian Empire on the banners. The camp is surrounded by groups of Persian soldiers wearing European uniforms and bearing Persian banners, on which a lion holds a sabre in its paw against a background of the rising sun.

Mounted on a horse in the centre of the painting is an English officer, one of those responsible for the reorganization of the Persian army along European lines.

A relatively minor victory over a single Russian regiment is given here the significance of a major historical event. The painting formed part of the decoration of the Ujan castle of Abbas Mirza, from where in 1828 it was removed by the Russians as a war trophy and brought to the Winter Palace in St Petersburg.

Source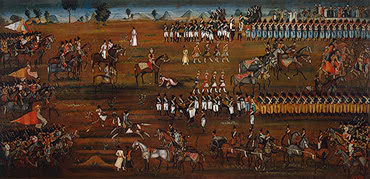 Persian Military Review with Fath Ali Shah and Abbas Mirza, c.1815-16
---
See also Portrait of Gayumars, the first Persian king, depicted as a Qajar infantryman
Faridun goes to capture Zahhak, from a 19th century Shahnama
A Persian warrior on horseback, c.1821, after Alexander Orłowski
Man on horseback, c.1830
Man Wearing a Pale Blue Robe, 1842
Muhammad Shah, c.1830
The Persian Regular Army of the First Half of the 19th Century, by Aleksandr Kibovskii and Vadim Yegorov. Translated by Mark Conrad
"Bagaderan" - Russian Deserters In The Persian Army, 1802-1839, by Aleksandr Kibovskii. Translated by Mark Conrad
Charge of the 3rd Bombay Cavalry against a square of the Persian 1st Khusgai Regiment of Fars, at the Battle of Kooshab, 1857.