Battle of Kereztes from the Dīvān of Nadiri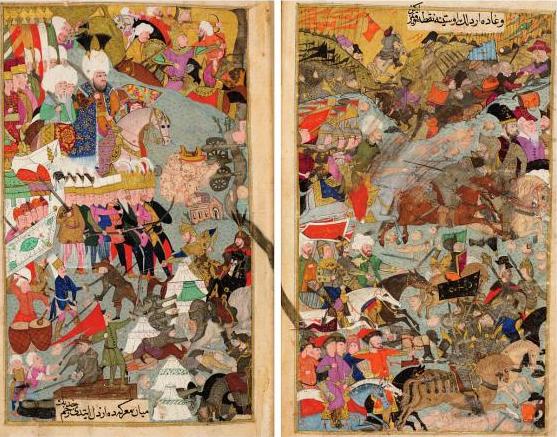 Battle of Kereztes (Hacova), with Mehmad III, Hoca Sadaddin, and Gazanfer Agha. Dīvān of Nadiri, Istanbul, ca. 1603-17. Topkapı Palace Museum, H. 889, fols. 6b-7a.
Source: Picturing History at the Ottoman Court by Emine Fetvaci

The left panel


A larger image of the left panel of the Battle of Kereztes from the Dīvān of Nadiri.
Image from Osmanlı Tasvir Sanatları. Source: "Freak Out" By Necla Ruzgar in REORIENT – Middle Eastern Arts and Culture Magazine
Battle of Kereztes (Hacova), with Mehmad III, Hoca Sadaddin, and Gazanfer Agha. Dīvān of Nadiri, Istanbul, ca. 1603-17. Topkapı Palace Museum, H. 889, fol. 6b.

---

Other Illustrations of Ottoman Janissaries (Janizary, Yeniceri)
Ottoman Illustrations of Costume and Soldiers