Audible Gift Memberships
The "Novo-Bayazet Plate"
A Sasanian King Hunting a Boar, a Bear, and a Lion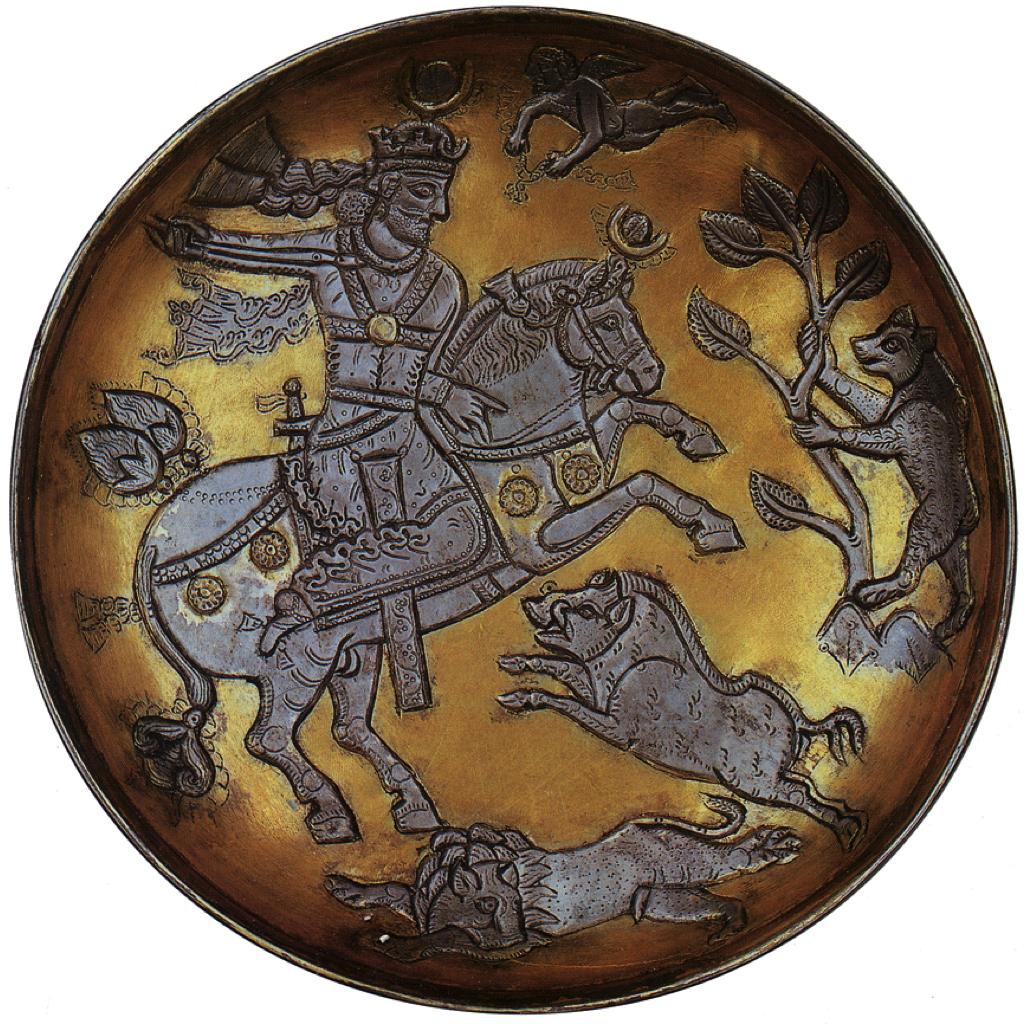 Picture source: StudyBlue

Plate depicting hunting scene with the Sasanian ruler
Iran. 7th c. Silver with gilding. Dia.: 18.6 cm.
Found in 1907 at Novo-Bayazet, Erivan province (Armenia). Ex-Botkin Collection.
Pub.: Smirnov, Vostochnoe serebro, no. 309; Trever and Lukonin, Sasanidskoe serebro (Moscow, 1987), pp. 78-79. Museum fuer Islamische Kunst, Staatliche Museen zu Berlin (Museum of Islamic Art) Inv. Nr. I.4925
Museum of Islamic Art, Berlin::Sasanian Collection. washington.edu



---


Jagdschale
Schale (Gefäß)

7. Jahrhundert
Dynastie - Sasaniden
Herkunft (Allgemein): Iran (Land)
Herkunft (Allgemein): Armenien (Land)
Höhe: 4 cm
Durchmesser: 19 cm
Ident.Nr. I. 4925
Sammlung: Museum für Islamische Kunst
© Foto: Museum für Islamische Kunst der Staatlichen Museen zu Berlin - Preußischer Kulturbesitz
Fotograf/in: Christian Krug

Hunting dish
Dish (vessel)

Dating: 7th century
Dynasty: Sasanids
Origin (General): Iran (Country)
Origin (general): Armenia (Country)
Height: 4 cm
Diameter: 19 cm
ID No. I. 4925
Collection: Museum of Islamic Art
© Photo: Museum of Islamic Art of the National Museums in Berlin - Prussian Cultural Possesions
Photographer: Christian Krug

Description
Gegossener Teller aus Silber mit graviertem/ziseliertem, gepunztem und vergoldetem Dekor. Die Innenfläche des Tellers wird von der Figur eines königlichen Reiters beherrscht, der über drei wilde Tiere siegreich ist. Der König trägt einen reich verzierten Mantel über einer langen Hose, verschiedene Waffen, Schmuck sowie eine mehrteilige Krone mit langen Bändern. Er ist bärtig und mit langen Haaren dargestellt. Vor ihm am Boden liegt ein bereits erlegter Löwe, während ein wilder Eber den Reiter angreift, der seine Lanze auf ihn gerichtet hält. Am rechten Rand steht ein Bär auf einem angedeuteten hügeligen Untergrund aufgerichtet an einem Baum mit großen Blättern. Die verschiedenen Tierfelle sind mit gepunzten Mustern angegeben.
Das Pferd trägt eine Art Krone, ähnlich der des Königs, und ist mit kostbarem Zaumzeug, Bändern und Gurten geschmückt, an denen Rundmedaillons hängen. Mähne und Schweif sind sorgfältig frisiert.
Darüber fliegt dem Reiter ein geflügelter Genius entgegen, der in beiden Händen das Diadem mit den langen Bändern hält.
Obwohl zur Zeit der Sasaniden-Dynastie jeder König mit seiner ihm eigenen Krone dargestellt wurde, ist es hier nicht möglich, eine historische Figur zu benennen: vermutlich ist ein idealer Herrscher gemeint, der im Stil sasanidischer Großkönige wiedergegeben wurde.

Cast silver plate with engraved / chased, punched and gilded decoration. The inner surface of the plate is dominated by the figure of a royal rider, who is victorious over three wild animals. The king wears an ornate coat over long trousers, various weapons, jewelry and a multi-part crown with long ribbons. He is bearded and shown with long hair. In front of him on the ground is an already killed lion, while a wild boar attacks the rider, who keeps his lance pointed at him. On the right side a bear stands on hinted hilly ground upright on a tree with big leaves. The different animal skins are indicated with punched patterns.
The horse wears a kind of crown, similar to that of the king, and is adorned with precious bridles, ribbons and straps on which round medallions hang. Mane and tail are carefully styled.
Above this, a winged Apam-Napāt flies toward the rider, holding the diadem with the long ribbons in both hands.
Although at the time of the Sasanid dynasty, each king was represented with his own crown, it is not possible to name a historical figure here: probably an ideal ruler meant, which was rendered in the style of Sasanid great kings.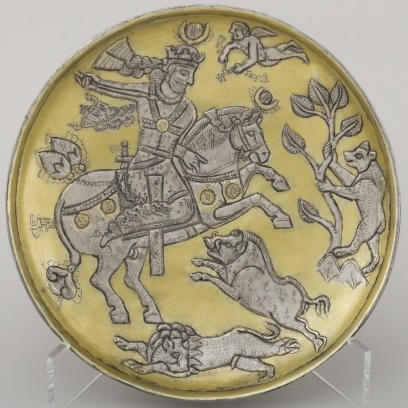 Staartliche Museen Berlin
---

Back to Sasanian and Central Asian Plates