Try Amazon Music Unlimited Free Trial
ʿAbbāsid Bowl with Arab Cavalryman, 10th Century, Iraq
Keir Collection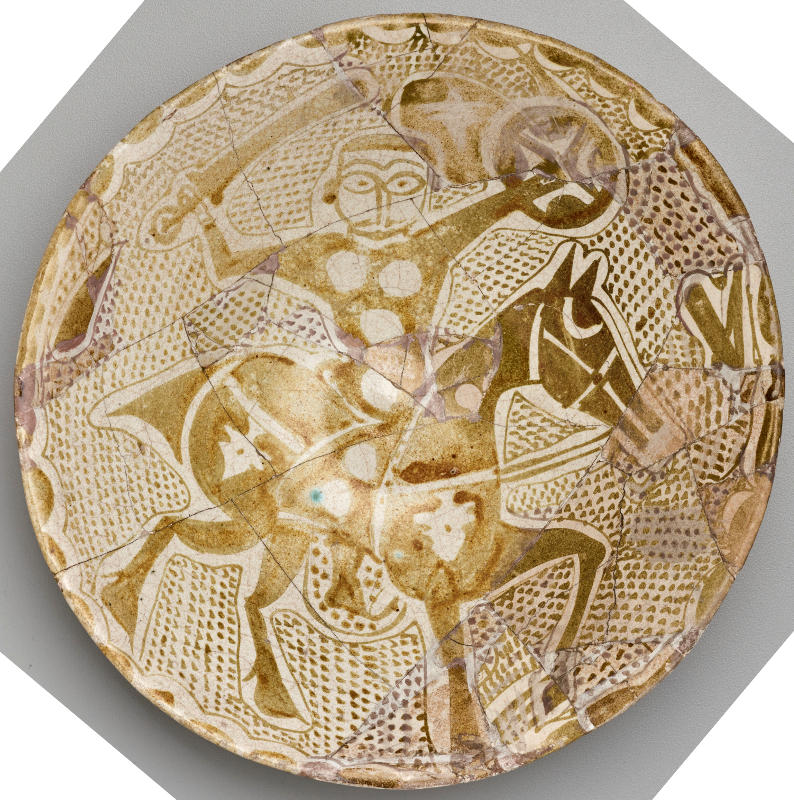 A larger image of this ʿAbbāsid Bowl with Arab Cavalryman, 10th Century, Iraq. Keir Collection, 37
Bowl with luster-painted decoration
DATE: 10th century
MATERIAL AND TECHNIQUE: Ceramic
CLASSIFICATION: Containers
DIMENSIONS: 2 1/2 × 9 1/4 × 9 in. (6.35 × 23.5 × 22.86 cm)
DEPARTMENT: The Keir Collection of Islamic Art
CREDIT LINE: The Keir Collection of Islamic Art on loan to the Dallas Museum of Art
OBJECT NUMBER: K.1.2014.233
General Description: Keir catalogue number No. 037
Source: Dallas Museum of Art



---


Ceramic from 10th century Iraq showing an apparently unarmoured cavalryman wielding a sword with what might be a ring-pommel more commonly seen in Central Asia. (Keir Coll. London)
Source: p38, Armies of the Caliphates 862-1098 by David Nicolle


---


Referenced as figure 317 in The military technology of classical Islam by D Nicolle
317. Lustre dish, 10th century AD, ʿAbbāsid, Keir Coll., London.

---

See also Abbasid Medallion of Khalīf al Muqtadir Billāh, 908-932 AD, ʿAbbāsid, Münzkabinett, Staatliche Museen Dahlem, West Berlin (Kau).
Abbasid Bowl with Standard Bearer, 10th Century, Iraq, Sothebys sale L13220/lot 162
Back to Abbasid Illustrations of Costume & Soldiers
Other 10th Century Illustrations of Costume & Soldiers