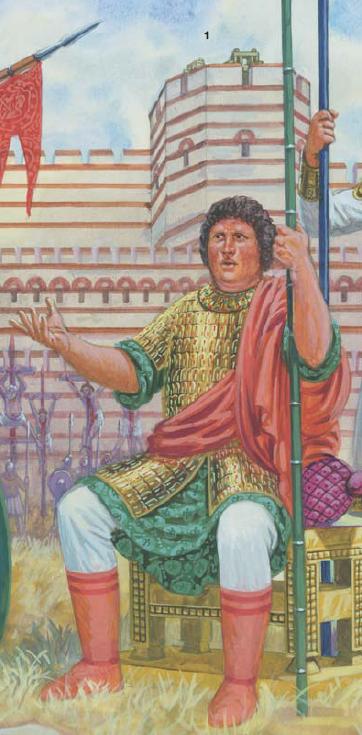 by Giuseppe Rava

(left)
Plate A1: Katépanos of Vasilikoi Anthropoi
This senior officer of the 'Imperials' of the Guard is wearing a gilded thorax folidotos (scale corselet), covered by a crimson sagion (military cloak). Note the high pinkish-red boots (kampotouvia). The colours here are restored from the original pigments of a Joshua plaque now in the Metropolitan Museum of Art.



(right)
Plate A4: Skoutatos of Noúmeroi
A typical heavy infantryman of the period, serving in one of the two regiments of the Constantinople garrison. The colours have been reconstructed from the Metropolitan Museum plaque. His coloured epanoklivanian/epilorikion, worn over his klivanion, as well as his padded nevrikon, were probably in the distinctive colours of his company (vándon).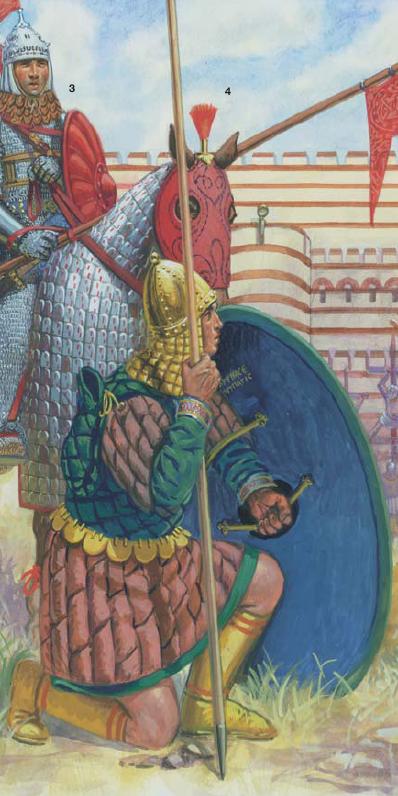 by Giuseppe Rava