Join Amazon Prime - Watch Thousands of Movies & TV Shows Anytime - Start Free Trial Now
Byzantine Icon of Saint Demetrios, Metropolitan Museum of Art, New York, second half of 10th century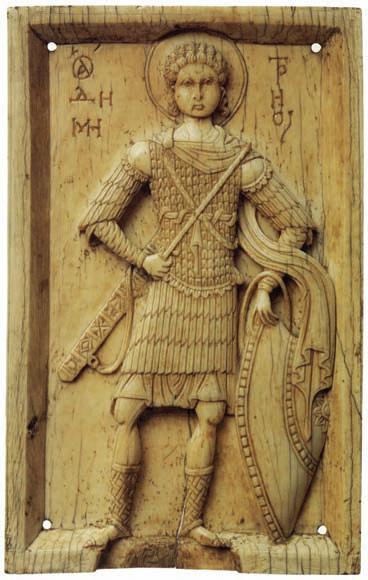 A larger image of this Byzantine Icon of Saint Demetrios, Metropolitan Museum of Art, New York
pp.134-135 The Glory of Byzantium : art and culture of the Middle Byzantine era, A.D. 843-1261, edited by Helen C. Evans and William D. Wixom. Metropolitan Museum of Art, New York
81. Icon with Saint Demetrios
Byzantine, second half of 10th century
Ivory
19.6 x 12.2 x 1 cm (7¾ x 4¾ x ⅜ in.)
INSCRIBED: On either side of the head, O A DHMH/TPHOC (Saint Demetrios)
PROVENANCE: Formerly in the collections of the comte de Bastard, Paris, and Ernst Kofler, Lucerne.

The Metropolitan Museum of Art, New York, N.Y. The Cloisters Collection, 1970 (1970.324.3)

The military saint, set within a deep frame, is dressed in armored splendor in a costume that includes a chlamys as well as a cuirass, shield, and spear (now broken). The Early Christian martyr Demetrios is the patron saint of both Thessalonike and the Constantinopolitan Church. The present panel is one of the few ivory ex-votos from the Middle Byzantine period (the image is known also from a series of steatite carvings). The soldier of Christ is closely related to another Middle Byzantine ivory - a smaller relief in Venice, also set inside a deep frame, which depicts Saints Theodore and George,1 with whom the Cloisters Demetrios has in common certain features of costume and stance. Artistically, the New York figure is extremely stylized and carved in high relief, with some areas, such as the arms, deeply undercut. The power of this military image is also enhanced by the figure's pose and the way he dominates the space, almost overwhelming it; indeed, the halo and the ends of the spear are carved into the frame. Because the locus of the cult of Demetrios is Thessalonike, the ivory may have been intended for that city.2
The area between Demetrios's feet was deliberately cut away, which suggests a change in function for the plaque. Initially, it probably was mounted as part of a series of saints, like those in Venice, for which the four holes in the corners would have been utilized. Later, the panel appears to have been modified to serve as a portable icon placed atop a pole during processions on the saint's feast day. Other icons have the same carved-out area on the frame where a clamp was inserted to enable it to be carried; one example is the twelfth-century icon with the Virgin and the dead Christ from Kastoria, Greece (cat. no. 72).3

CTL

1. Goldschmidt and Weitzmann 1934, vol. 2, no. 20.
2. Horster 1957, p. 48.
3. See Vikan, in Baltimore 1988, no. 8.

LITERATURE: Lenormant 1839, pt. 2, pl. XXXVII;
Horster 1957, pp. 33-51; Schnitzler et at. 1964, no. S7;
Frazer 1990; Cutler 1994, pp. 117f, figs. 126, 130.

EXHIBITION: Leningrad [Saint Petersburg] 1990, no. 12.

---

See also: A Byzantine Plaque with Scenes from the Book of Joshua, 2nd half of 10th century, Victoria and Albert Museum
A Byzantine Casket, 10th-11th century, Musée National du Moyen Âge, Paris, France
Other 10th Century Illustrations of Costume & Soldiers
Byzantine Illustrations of Costume & Soldiers