Amazon FreeTime Unlimited Free Trial


Byzantine Fresco of Saint Ieron, 10th century.
Tokalı Kilise (Buckle Church), Göreme, Cappadocia, Turkey.
ΙΕΡΩΝ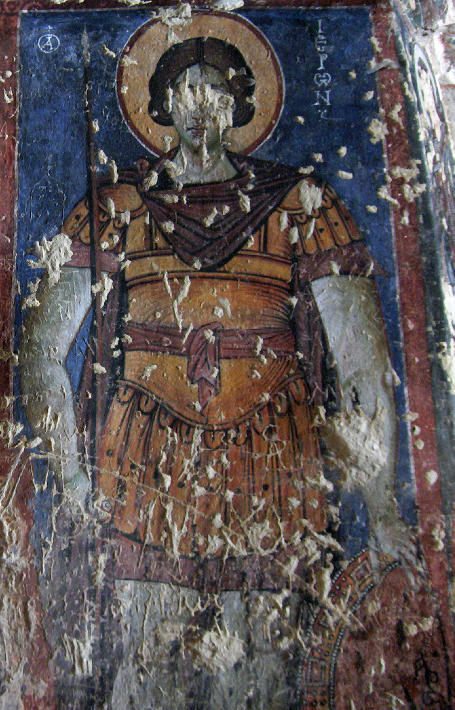 A larger image of this Byzantine Fresco of Saint Ieron, 10th century. Tokalı Kilise (Buckle Church), Göreme, Cappadocia, Turkey.

Photo by Georges Jansoone

Ieron, a saint and martyr portrayed as a Byzantine warrior.
Perhaps Ieron or Iero, born in England of noble parents, became a priest, worked in Friesland (Netherlands), captured and martyred by Danes in 856AD. Source

Tokalı Kilise according to Armour in Art
The Buckle Church is formed of four chambers: the Old Church, the larger New Church, the Paracclesion, and the Lower Church. Stylistically the New Church frescos are similar to paintings of the same time period found in Constantinople which suggests that the patrons may have paid for a workshop to come to Cappadocia specifically to decorate the New Church. Nikephoros is the artist's name mentioned in an inscription.

---

See also: Byzantine Fresco of Saint George, Sümbüllü kilise, Hasan Dağı, Cappadocia, Turkey, 10th-11th century
Byzantine Warrior Saints in Dovecote Church, Cavusin, Cappadocia, Turkey, mid-10th century
Other 10th Century Illustrations of Costume & Soldiers
Byzantine Illustrations of Costume & Soldiers