Byzantine Fresco of Saint George, Sümbüllü kilise, Hasan Dağı, Cappadocia, Turkey, 10th-11th century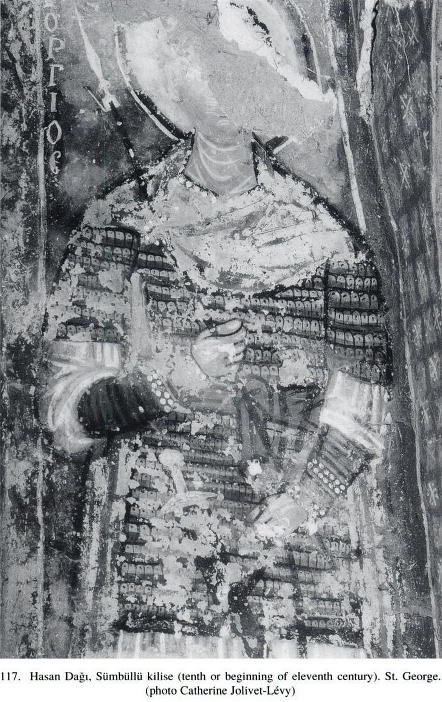 A larger image of this Byzantine Fresco of Saint George, Sümbüllü kilise, Hasan Dağı, Cappadocia
117. Hasan Dağı, Sümbüllü kilise (tenth or beginning of eleventh century). St. George. (photo Catherine Jolivet-Lévy)
Source: Fig. 117, Reconstructing the Reality of Images Byzantine Material Culture and ... by Maria G. Parani



---


Referenced on p.23, Byzantine Infantryman, Eastern Roman Empire c.900-1024 by Timothy Dawson
Corroborating the Goliath of Agh'tamar, this St George wears a klivanion of lamellar running continuously down onto his thighs rather than ending at the hips, and so unmistakably made for an infantryman. Note also the sleeves of his padded undergarment emerging from the sleeves of the klivanion. An 11th-century fresco in the Church of Hasan Dagi, Kappadokhia. (Photograph courtesy of Steven Lowe [unlikely]).

Try Amazon Home Services