Try Amazon Home Services
Russian German Legion
Uniforms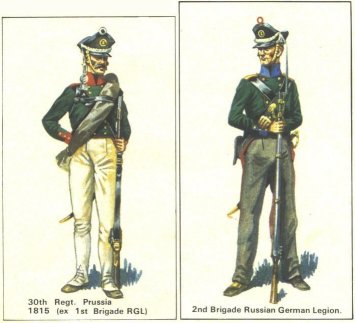 The Russian German Legion was raised on 6.9.1812 and at its full strength it comprised two infantry brigades, one rifle, or Jager, company, two regiments of hussars and a battery of foot and horse artillery.

In 1815 it was absorbed into the Prussian Army, the six battalions forming the two infantry brigades were formed into the Prussian infantry regiments 30 and 31.
The regiments were dressed in the Russian style until the end of the Napoleonic era. This consisted of the Russian style shako or Kiver with white cords, cap lines and tassels. On the front at the top of the shako was a white cockade with a red edge. The coat was double breasted and similar to the Prussian Kollet. It was dark green with yellow metal buttons. The collars, cuffs and shoulder straps were red for the 1st Brigade, and light blue collars and cuffs for the 2nd Brigade, the shoulder straps being yellow piped with red. Turnbacks for both units were red. Trousers were grey piped with red along the outside seams for winter wear and white for summer. On entering the Prussian service the cockade was changed to the Prussian black and white cockade, and the facings for the 2nd Brigade were changed to red. The Russian style of white gaiter trousers were also taken into wear. A number of officers joining the newly raised regiments may possibly have worn the dark blue Prussian style uniforms with crimson facings for the 30th regiment and light blue piped red facings for the 31st. Belts and equipment were black leather. The regiments were not issued with standards until 1816.

---

Other Illustrations of Russian Costume & Soldiers
Index of Illustrations of Costume & Soldiers