Join Amazon Prime - Watch Thousands of Movies & TV Shows Anytime - Start Free Trial Now
Detail from 'The Reception of Ambassador Domenico Trevisiano at Damascus' painting by Gentille Bellini school, 1511
Also known as 'The Reception of Ambassador Domenico Trevisiano at Cairo'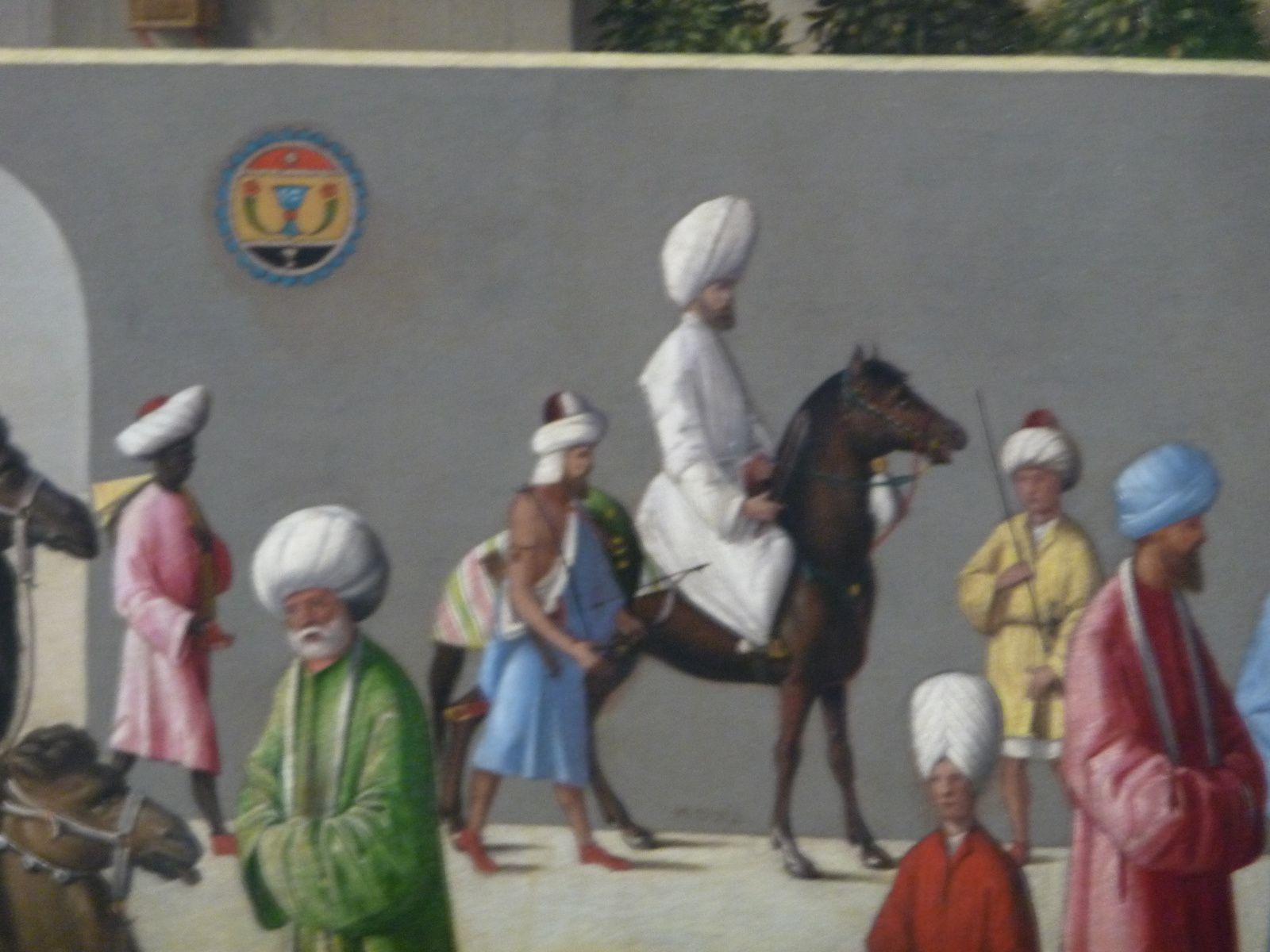 Picture source: Sortie au Louvre-Lens
A Mamluk dignitary on horseback, accompanied by his servant, is stopped by a guard who lowers his baton.

Referenced on p37, The Mamluks - 1250-1517 by David Nicolle:
This detail from a remarkably accurate painting of The Reception of Venetian Ambassadors in Mamluk Damascus by an anonymous artist of the 'school of Bellini', 1488-96, shows a horseman wearing the tall turban of a senior amir. He is accompanied by an infantry archer, and rides past a building decorated with an example of Mamluk heraldry. (Louvre. Mus. inv. 1157, Paris)



---


[The headgear of the infantry archer may be a kallawta.]
In St. Mark preaching in Alexandria, for instance, it is possible to recognize the kallawta. In origin it was a small, yellow cap without any turban wrapped around while the hairs were long and fell down loosely on the necks. At the time of the sultan al-Ašraf Ḫalīl (1290-1293) its colour was changed from yellow to red and a turban was wrapped around it. When al-Nāṣir Muḥammad ibn Qalāwūn (1293-1294, 1299-1309, 1310-41) had his head completely shaved after he went on a pilgrimage in 1332 his entourage copied him and the loss of hair made the kallawta much bigger in size and of better quality. Source: Gentile Bellini E l'Oriente by Maria Pia Pedani


Back to The reception of Ambassador Domenico Trevisiano at Damascus.


---
A Mamluk foot-soldier from Armies of the Middle Ages, Volume 2 by Ian Heath, based on 'The Reception of Ambassador Domenico Trevisiano at Damascus'.