Join Amazon Prime Music - The Only Music Streaming Service with Free 2-day Shipping - 30-day Free Trial
Maqamat, Syria, late 13th-century, British Library, Ms. Or. 9718
Muhammad al-Qasim Al-Hariri (1054 - 1122) (author)

Two camel-riders in bedouin Arab costume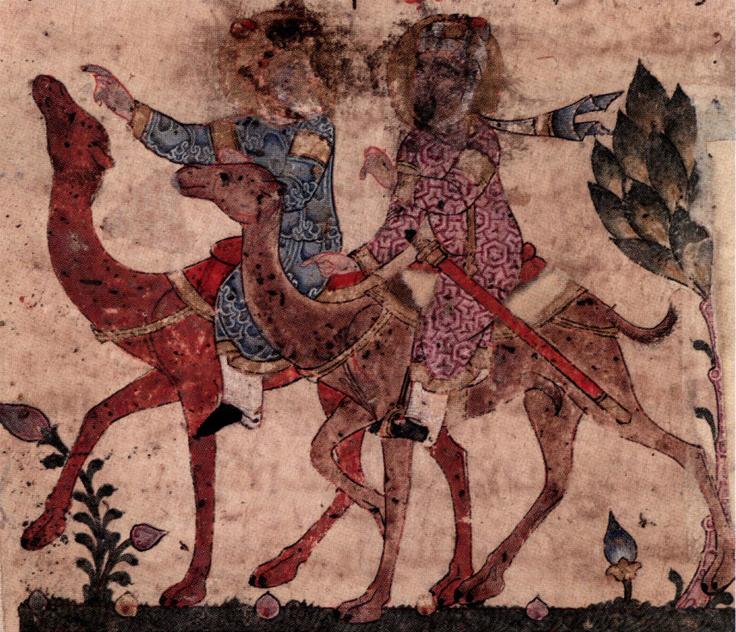 Source: p90, God's Warriors, Knights Templar, Saracens and the Battle for Jerusalem by Helen Nicholson & David Nicolle:
Two camel-riders in bedouin Arab costume in a late 13th-century Syrian copy of the Maqamat of al Hariri. (British Lib., Ms. OR 9718, f173r London).



---


Referenced as figure 133D in The military technology of classical Islam by D Nicolle
133A to 133D. Manuscript, A - 'Qādī of Marāgha, ' B - 'Caravan to Mecca,' C - 'Guard of Qādī of Sacada,' D - 'Camel riders,' Maqāmāt of al Harīrī, 1275-1300 AD, Syrian, British Library Ms.Or.9718, ff. 24r, 120r, 153v and 173r, London.



From the same manuscript: Abu Zayd pretends to be a Muslim religious leader at a funeral, Maqamat, Syria, British Library, Ms. Or. 9718


---

Back to Maqamat manuscripts