Try Audible and Get Two Free Audiobooks
Maqamat, Mosul 1256AD, British Library, Ms. Or. 1200
Muhammad al-Qasim Al-Hariri (1054 - 1122) (author)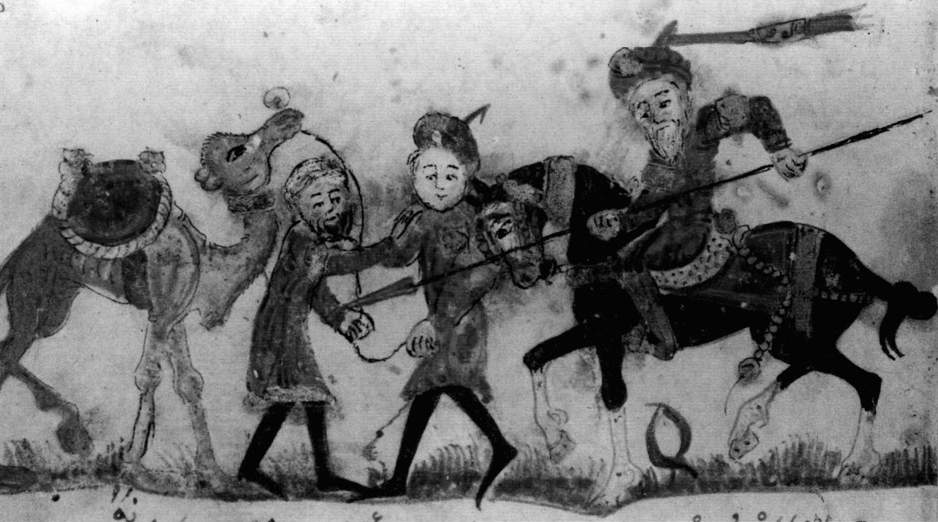 Source: p25, God's Warriors, Knights Templar, Saracens and the Battle for Jerusalem by Helen Nicholson & David Nicolle:
Arab bedouin warrior stopping a fight between two travellers. This example of the Maqamat of Al Hariri was made in Mosul in 1256 and shows the very long spear characteristic of Arab horsemen. (British Library, Ms. Or. 1200, London)



---


Perhaps illustrating the 27th maqama, which recounts the loss and recapture of a camel by al-Harith. The scene depicts the moment in which al-Harith faces the Bedouin who took his camel and Abu Zaid, himself guilty of having stolen the horse he is riding.



---


Referenced as figure 310 in The military technology of classical Islam by D Nicolle
310. Manuscript, Maqāmāt al Ḥarīrī, 1256 AD, Jazīrah, British Lib., Ms. Or. 1200, f. 81r, London.

Next
Back to Maqamat, British Library, Ms. Or. 1200


---

See also Maqamat, Muhammad al-Qasim Al-Hariri (1054 - 1122) (author), 1337AD, Cairo, MS. Marsh 458, folio 45a, "al-Harith helps Abu Zayd to retrieve his stolen camel" (Maqama 27)
Other Illustrations of Arab Costume and Soldiers