Prime Student 6-month Trial


An early medieval shield from Szczecin, Poland, 12th century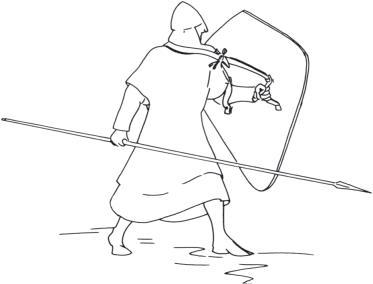 Fig. 6. Armed knight from the Płock Bible (redraw R. Kamiński)

"An early medieval shield from the borough in Szczecin" by Marian Głosek, Anna Uciechowska-Gawron
Materiały Zachodniopomorskie, Nowa Seria
t. VI/VII: 2009/2010, z. 1: Archeologia, s. 269-283
ISSN 0076-5236

Summary
In the year 2000, archaeological research was conducted in the northern part of Podzamcze in Szczecin, within Quarter 1, situated on the eastern side of Panieńska Street, near the town's defensive walls with the Tower of Seven Coats (Polish: Baszta Siedmiu Płaszczy). Among numerous and diverse sources, there was a fragment of an almond-shaped shield, whose arched upper edge forms a characteristic point. Approximate size of the shield could be the following: height between 1.25 and 1.35 m, maximum width - 0.86 m. The frame of the shield without a boss was made of alder wood in plank construction, of one layer of six planks, 6.5 to 17 cm wide and 0.4 to 0.7 cm thick, butted together in a row, with edges touching each other. The front of the shield was covered with a colourful ornament, directly on the wooden surface. In the centre, there is a red-yellow stylised cross with expanding arms. The edge is bordered with an 8.5-10.5 cm wide "bordure" marked with a line made with a black paint. It is filled with repeated red circles and black ovals, inside which there are yellow rosettes on the red background. On the inner side of the shield, the left shield-grip made of a 42 cm long leather strap has been preserved. On the right side, the strap was most likely considerably shorter allowing for a firm grip. Almond-shaped shields were used in Europe from the end of the 10th to the 13th century The shield from Szczecin was found in the fill of the wood and earth rampart, which was dendro-dated to 1170-1197. Thus, the dating corresponds to the final period of use of this form of weapon. However, it is impossible to determine how the discussed item found its way to Szczecin. It appears today that it could be brought by Danish armies that besieged the town several times in the second half of the 12th century.

---

See also Judas Maccabeus portrayed as a Polish knight in the Plock Bible, second quarter of the 12th century
Other 12th Century Illustrations of Costume & Soldiers
Index of Illustrations of Costume & Soldiers