Try Audible and Get Two Free Audiobooks
Saint George on an alabaster plaque, Byzantine, 12th century.
Archaeological Museum inv. 1000, Plovdiv, Bulgaria.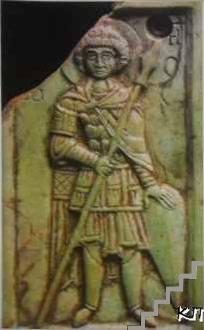 Category: Postcards
Year: 1974
City of Issue: Sofia
Keywords: St. Georgi, Plovdiv, XII century, Alabaster, 7 x 4 cm
Source: knizhen-pazar.net



---


Referenced as figure 227 in The military technology of classical Islam by D Nicolle
227. Alabaster plaque, 'St. George', 12th century AD, Byzantine, Archaeological Museum inv. 1000, Plovdiv.
p.174 Lamellar armour may also have been used in Byzantium in the pre-Islamic era39 (Figs. 90, 91 and 556) but its more widespread adoption after the 7th century clearly reflected Muslim military pressure40 (Figs. 212, 220A, 314, 630 and 637). A smaller but equally common kabadion lamellar cuirass was seen in Byzantium from the 10th century41 (Figs. 227, 242, 249, 314, 414 and 608). This could reflect the changing fashions of eastern Islam, where the lamellar kamaband may have been developed in the 10th century, or it could have been the Byzantine original that stimulated the adoption of this latter Iranian form of armour (Figs. 209, 241, 292, 294, 306, 347, 354, 376, 377, 385, 390, 392, 422, 446, 447 and 641).

39. Haldon, "Some Aspects of Byzantine Military Technology from the 6th to the 10th centuries," p. 20.
40. Ibid., pp. 25-26, 29 and 46.
41. Ibid., p 36.



---


Referenced on p.11, Byzantine Armies AD 1118-1461 by Ian Heath & Angus McBride
A 12th century Byzantine soldier wearing a lamellar corselet, from a steatite now in Plovdiv archealogical museum, Bulgaria.



---


Referenced as figure 106 in Arms and armour of the crusading era, 1050-1350 by Nicolle, David. 1988 edition
106 "St. George", carved alabaster plaque, Byzantine, 12 Cent.
(Archaeological Museum, inv. 1000, Plovdiv, Bulgaria)
A more orthodox representation. The Saint wears typically Byzantine riding boots or protective gaiters and a lamellar cuirass. Such armours are normally represented as having lower abdomen and upper arm protections of pendant scale or lamellar construction. Whether such cuirasses were used in battle, or even still existed, by the twelfth century is unclear. The Saint's spear and shield would, however, seem realistic.

---

See also Saint George on a Steatite Icon, Byzantine, Vatopedi monastery, Mt. Athos, Greece, 11th Century
and Byzantine Illustrations of Costume and Soldiers
Other 12th Century Illustrations of Costume and Soldiers