Give the Gift of Amazon Prime
Georgian Icon from Shemokmedi, 11th century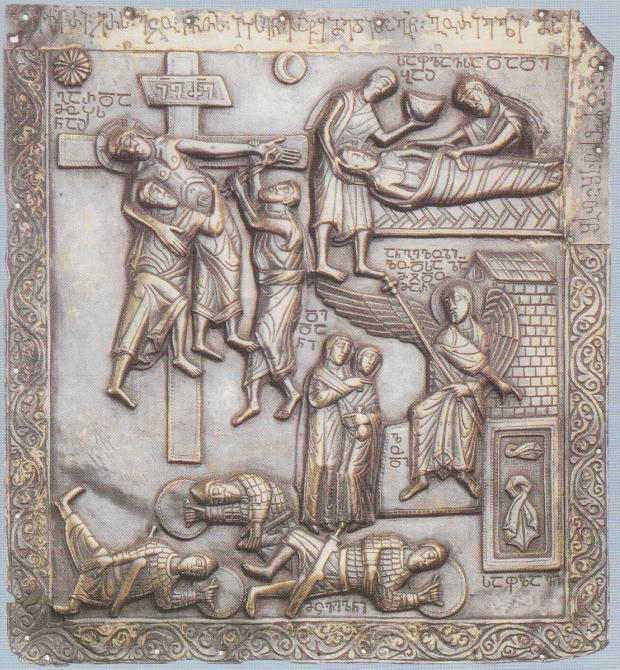 Christ taken down from the cross; prepared for burial; & the women, angel and sleeping guards at the empty sepulcre.

The three warriors, portrayed on the Shemokmedi icon dating from the 2nd half of the 11th c., wear one-piece helmets (Cowe 2006, 348, fig. 235): they are lower and more conic than the high, sphero-conical helmets characteristic of the following period (fig. 5). Of great interest is the lengthened part of the helmet which covers the back of the head and the upper part of the neck, this is characteristic of later helmets. The warriors, depicted in miniature 111r of the Second Tetraevangelion of Jruchi dating from the 12th c., have similar features.
Source: The Helmet from the Wawel Royal Castle Museum and its Place in the Evolution of Oriental Helmet by Mamuka Tsurtsumia



---


Referenced as figure 416 in The military technology of classical Islam by D Nicolle
416. Silver altar plaque from Shemokmedi, Guards at the Tomb, late 10th-early 11th centuries AD, Georgian, National Museum, Tbilisi (Mep).
p171 Vol. 1 ".. scale hauberks were widely used in the so-called Dark Ages ..."
p220 Vol. 1 ".. the khūd was essentially comparable to those generally low-domed, rounded or slightly pointed helmets with large neck-guards ..."

---

See also Khūd Helmets by David Nicolle, an extract from The military technology of classical Islam
Other Georgian Illustrations of Costume & Soldiers