Try Prime Discounted Monthly Offering
Fatimid Painted Paper with Cavalryman, 10th - 12th Centuries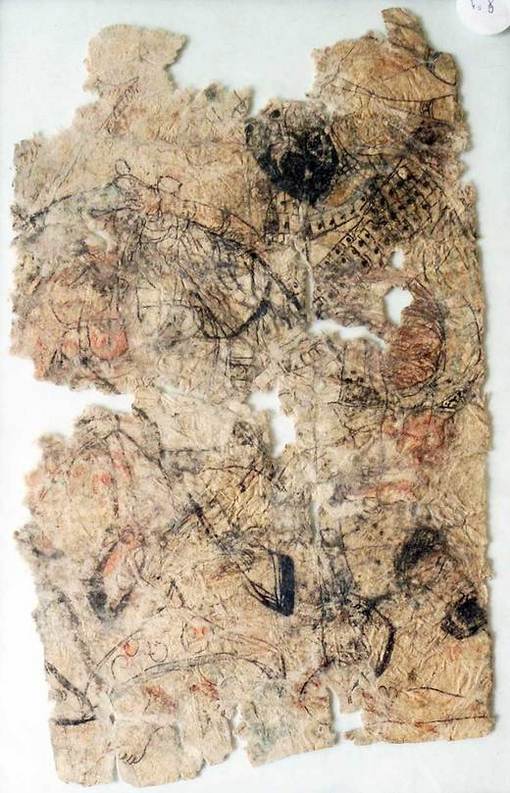 Source: "The Zangid bridge of Ğazīrat ibn ʿUmar (ʿAyn Dīwār/Cizre): a New Look at the carved panel of an armoured horseman" by David Nicolle, in Bulletin d'études orientales 2014/1 (Tome LXII) pp. 223- 264



---


Drawing of Armed Horseman
DATE: 10th Century
MATERIAL AND TECHNIQUE: Work on paper
CLASSIFICATION: Works on Paper
DIMENSIONS: Sheet dimensions: 9 × 5375 in. (22.86 cm × 136 m 52.53 cm) Mat dimensions (external): 20 7/8 × 15 3/8 in. (53.02 × 39.05 cm)
DEPARTMENT: The Keir Collection of Islamic Art
CREDIT LINE: The Keir Collection of Islamic Art on loan to the Dallas Museum of Art
OBJECT NUMBER: K.1.2014.1112
General Description: Keir catalogue number I.008
Source: Dallas Museum of Art



---


Referenced as figure 146 in The military technology of classical Islam by D Nicolle
146. Paper fragment, 10th century AD, Fāṭimid, Keir Coll. I. 8, London (Rob I).



---


Referenced on p19, MAA - 320 Armies of the Caliphates 862-1098 by David Nicolle:
A fragment of 11th-12th century Egyptian painted paper showing one of a pair of cavalrymen shaking hands above the carnage of battle. (Keir Coll. I.8, London)



---


Referenced on p46, WAR - 010 Saracen Faris 1050-1250 AD by David Nicolle and Christa Hook:
Painted paper from Fustat. Fatimid from the 11th-12th century. This damaged fragment shows a turbaned horseman wearing a lamellar cuirass that seems to include arm defences, perhaps over a mail hauberk. (Private collection).


Previous: Fatimid Lustre Bowl Depicting a Lute Player, 11th-12th century, former Plotnick Collection Next: Fatimid Turban on Manuscript Fragment, 11th-12th Centuries, Museum of Islamic Art, Cairo


---
Plate G, Men-At-Arms Series 125, The Armies of Islam 7th-11th Centuries by David Nicolle & Angus McBride based on this Fustat manuscript.
Fatimid Illustrations of Soldiers and Hunters, 10th - 12th Centuries