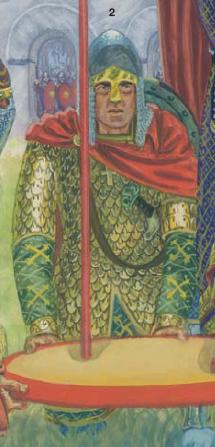 by Giuseppe Rava

Referenced for plate D2 in Byzantine Imperial Guardsmen 925-1025: The Tághmata and Imperial Guard by Timothy Dawson
2: Kataphraktos of the Eskoubitores
This heavy cavalryman of the Tághmata is reconstructed from a steatite plaque representing St Demetrios, today in the Louvre, Paris. He wears a klivanion with small scales or folides, completely gilded, and reinforced on the left arm by a zava formed by lamellae. It is worn over a thick, long-sleeved tunic (chiton) with embroidered cuffs. His cloak (chlamys) is fastened at the right shoulder. From his belt he wears a straight spathion with a trilobate pommel, and a kite-shaped shield hangs from his left shoulder.