Kindle Unlimited Membership Plans
Two Warriors on Horseback on a Casket Lid
Byzantine, mid 11th century
A detail of the Two Warriors on Horseback.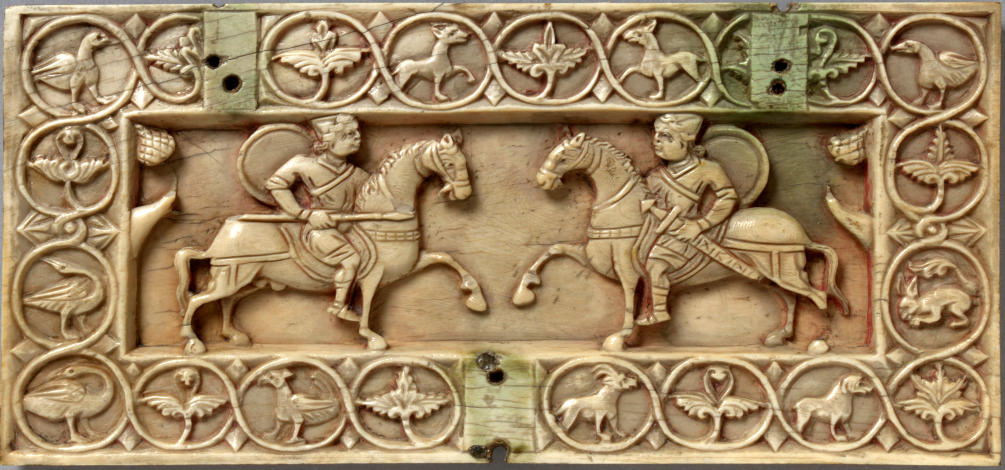 A larger image of Two Warriors on Horseback on a Casket Lid, Byzantine, mid 11th century. Victoria & Albert Museum A.542:1-1910.
Two Warriors on Horseback
Object: Casket lid
Place of origin: Istanbul, Turkey
Date: mid 11th century
Dimensions: Height: 7.8 cm, Length: 16.8 cm
Materials and Techniques: Elephant ivory with traces of paint
Two mounted warriors face each other, the one on the left holding a lance, the other a sword. Both carry round shields on their backs, strapped over their shoulders. Behind each warrior a stubby trunk of a tree emerges from the border. The integral border is composed of interlaced scrolls, with lozenges in the interstices, forming circles filled with leaves, animals, a griffin and birds.
It originally formed the lid of a small casket. There are remains of crimson pigmentation, indicating that the plaque was completely painted in this colour, although probably not originally. Unusually for Byzantine caskets, this lid is carved from a solid plaque of ivory rather than being constructed from separate elements pegged to a wooden core.
Victoria & Albert Museum number: A.542:1-1910



---


Referenced as figure 218 in The military technology of classical Islam by D Nicolle
218. Ivory panel, 10th-11th centuries AD, Byzantine, Victoria and Albert Museum no. A525.1910 (Gol).



---


Referenced on p.30, Byzantine Cavalryman c.900-1204 by Timothy Dawson (Author), Giuseppe Rava (Illustrator)
In addition to fine details of horse furniture, this eleventh-century ivory in the Victoria and Albert Museum shows a practice that is rarely depicted, but which must, in fact, have been the norm - that of hanging the shield from a shoulder strap.



---


Referenced as figure 81 in Arms and armour of the crusading era, 1050-1350 by Nicolle, David. 1988 edition
81A-81B Carved ivory panel, Byzantine, 10—11 Cents. (Victoria and Albert Museum, no. A.525-1910, London, England)
Slightly more difficult to interpret is this panel, probably from an ivory box. The fact that the horsemen seem to have turbans wound around their conical and probably segmented helmets may be a conventional way of identifying them as Saracens. In all other respects, they probably reflect Byzantine unarmoured light cavalry, especially the very European style of sword and scabbard on Fig. 81B.