Kindle Unlimited Membership Plans
A Byzantine Plaque of Saint Theodore, 11th century.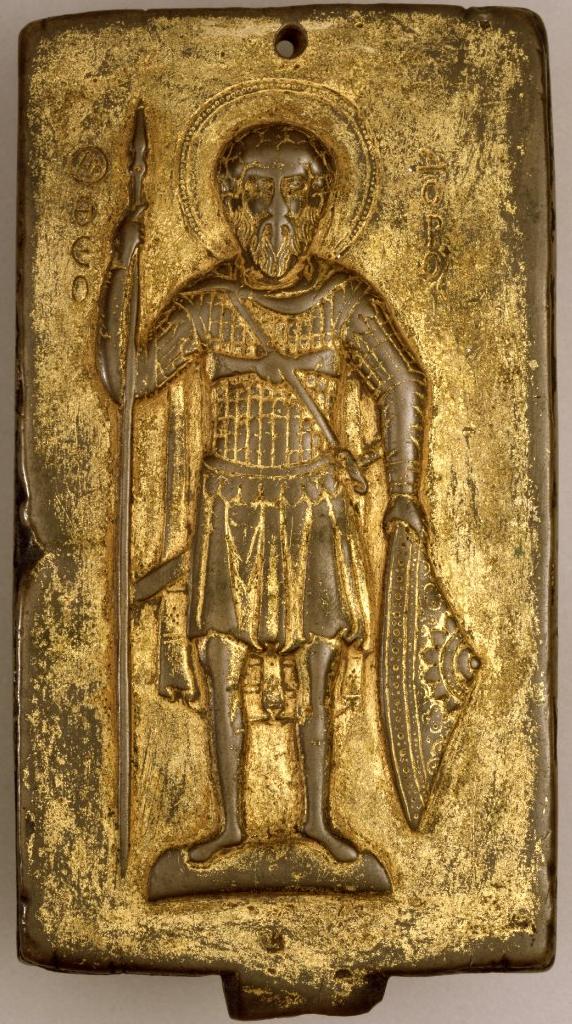 Description: A gilt-bronze plaque; cast in low relief with the standing figure of St Theodore, with nimbus, bearded, and in military costume; the latter consists of a cuirass, military skirt, officer's sash and a knee-length mantle. The saint, who wears a sword, holds a spear in his right hand and an imbricated shield in his left. Inscribed on either side of the saint's head. At bottom, a broken tang.
Inscription Transliteration: A THEO DORO (Saint Theodore)
Dimensions: Height: 125 mm. Width: 67 mm.
Published: D. Buckton, Byzantium: Treasures of Byzantine Art and Culture, London, 1994, no 160. Purchased in Smyrna.

Source: British Museum AN265591001.



---


Referenced on p45 EH 033. J.Haldon - Byzantium at War AD 600-1453



---


Referenced on p12, MAA 89 Byzantine Armies 886-1118 by Ian Heath & Angus McBride:
Gilt bronze plaque of the 11th century depicting a military saint (Theodore) in the guise of a dismounted Byzantine cavalryman. His equipment comprises leather-fringed lamellar klibanion, sword suspended from a baldric, lance (shortened to fit the plaque) and decorated circular shield. The sash tied round his chest occurs in a number of sources and is probably an indication of rank. Most dismounted horsemen wear cloaks in the pictorial sources.

---

See also Byzantine Mosaic depicting the soldier, Longinus, in the Nea Moni Church, Chios, Greece, c.1050AD
A Naval battle in The Cynegetica of Pseudo-Oppian, Byzantine, 11th century
Other Byzantine Illustrations of Costume & Soldiers
11th Century Illustrations of Costume & Soldiers