Kindle Unlimited Membership Plans


Slate Icon of Saints George and Demetrius
Byzantine, Late 11th - early 12th century. State Hermitage Museum, St. Petersburg, X-103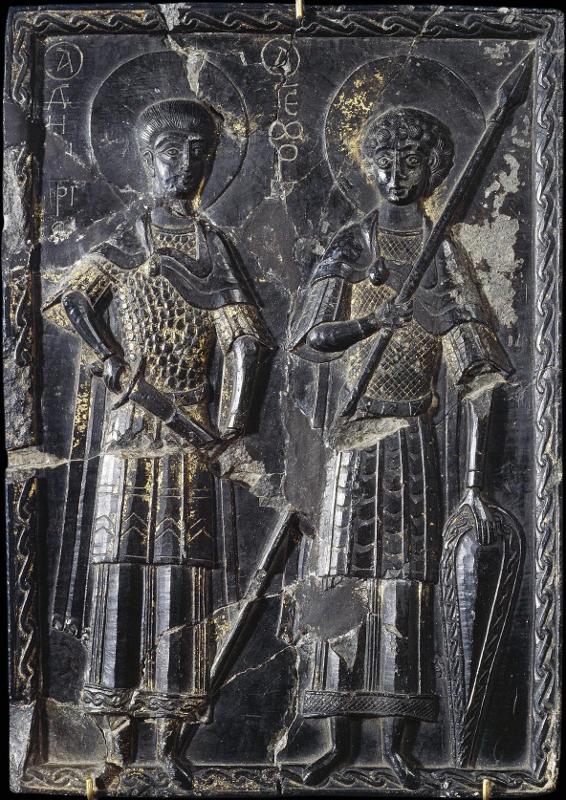 A larger image of this Slate Icon of Saints George and Demetrius, Byzantine. Hermitage Museum X-103
Title: Icon: Sts George and Demetrius
Place: Byzantium
Date: Late 11th - early 12th century
Material: dark slate
Technique: carved and gilded
Dimensions: 19.9 x 14 x 1 cm.
Inventory Number: Х-103
State Hermitage Museum, St. Petersburg, X-103



---


A carved ikon of St George and St Demetrios, probably from the early 12th century. St George (left) wears what could be either mail or scale, while St Demetrios appears to be wearing a finely quilted kavadion. Both have unusal, possibly stylised, arm and lower body protection. Note Demetrios' long spear and his small kite-shaped shield with a central ridge, and the "reverse" crossguard on St George's sword.
Source: 'Byzantine Arms and Armour from Contemporary Images' by Steven Lowe



---


Referenced on p13 Byzantine Armies AD 1118-1461 by Ian Heath & Angus McBride
Saints George and Demetrius, demonstrating cavalry equipment of c. 1100. The corselets appear to be of mail and quilt respectively. Both have pteruges. The long tunics may be evidence of Frankish influence.

---

See also Triptych Showing the Forty Martyrs, Byzantine, late 11th - early 12th century. State Hermitage Museum, St. Petersburg, W-299
Other 11th Century Illustrations of Costume & Soldiers
Byzantine Illustrations of Costume & Soldiers