Audible Gift Memberships
Soldier in a Byzantine Lectionary, third quarter of the eleventh century.
Detail from Vaticana Graec 1156, folio 248r.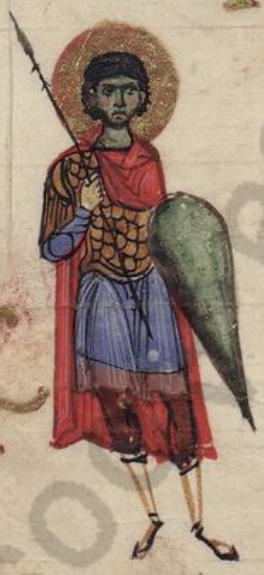 Source: Biblioteca Apostolica Vaticana, Vat.gr.1156



---


Referenced on p.219 & as plate 33a in "Byzantine Miniature and Icon Painting in the Eleventh Century" by Kurt Weitzmann

a richly illustrated lectionary in the Vatican (cod. gr. 1156) of the third quarter of the eleventh century.1
...
Now, in the Vatican lectionary this ambo-miniature is preceded by four similar scenes, all of which have to do with the feast of the Elevation of the Holy Cross (pls. 33a-b);

1 Millet, Recherches, pp. (cf. index, p. 749) and figs. 76-77, 93-99, 141, 344, 426, 533. — Weitzmann, 'Narrat. and Liturg. Illustr.' pp. 156, 160, and pl. XIII, 1-4; XVIII, 1-2.

---

See also a Greek Gospel book in the Biblioteca Laurenziana, Florence (Plut. 6.23), Byzantine
and other Byzantine Illustrations of Costume and Soldiers
Other 11th Century Illustrations of Costume and Soldiers