Try Twitch Prime


Manuscript Illustration of
f.7v, Crucifixion, by Evargis the Priest
Armenian Gospel of Taron, 1038AD, Matenadaran Collection ms 6201.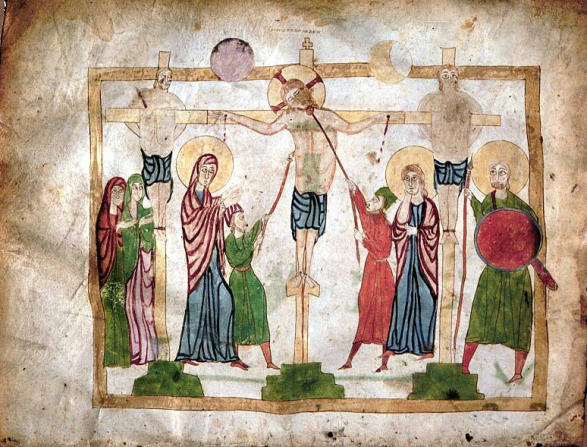 The Crucifixion, by Evargis the priest, 1038, Gospel of Taron, ms6201 Matenadaran collection.
Source: Armenian illuminated manuscripts



---


Referenced as figure 243B in The military technology of classical Islam by D Nicolle
243A and 243B. Manuscript, A - Guard at the Tomb, B - Crucifixion, 1038 AD, Armenian, Matenadaran Lib., Ms. - 6201, Yerevan (Dou).

---

See also Illustrations of Armenian Costume and Soldiers in the T'oros Roslin (or Sebastia) Gospels of Armenia, 1262AD
Other 11th century Illustrations of Costume & Soldiers