Audible Gift Memberships
Gospel, Armenian, St. Grigor Monastery, 1057AD. Matenadaran, Erevan, Ms 3784.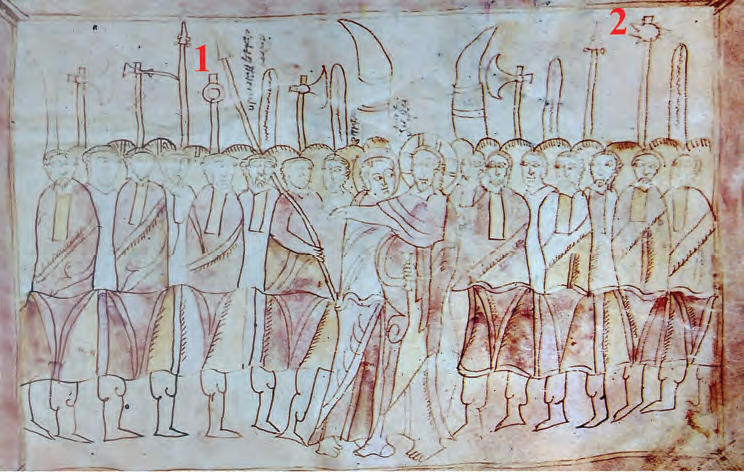 Betrayal, folio 9r.


Melitene Gospel, Matenadaran, Ms. 3784, f. 9
Fig. 17, The relief on the door of the Msho Arakelots monastery (1134) as a source for studying arms and armour of medieval Armenian warriors by Dmytro Dymydyuk.



---


IAA Number: M3784G
MS Type: Gospel
Place executed: St. Grigor Monastery
Date: 1057
Present location: Erevan, Matenadaran, Ms. 3784
Material: parchment
Size (cm x cm): 42.0 x 31.0
Folios: 289.0
Scribe: T'ournay, son of Movses, priests.
Script: large erkat'agir
Artist: -
Notes & comment 4 Evangelists standing, 4 Evangelists (?) in medallions of a knotted cross. Full cycle of miniatures. All miniatures, f. 6-11, are across the height of the page. 289 folios. 2 columns.
Universtät Hamburg



---


Referenced as figure 244 in The military technology of classical Islam by D Nicolle
244. Manuscript, The Betrayal, 1057 AD, Armenian, Patriarchal, Lib., Ms. 362G, Etchmiadzin (Mac).

---

See also Gospel, Armenian, 10th century. Mekhitarian Library, Vienna, Ms 697.
Other 11th Century Illustrations of Costume and Soldiers